Northern Exposure
Wonders of Lake Mývatn. This tour was nominated by the Sunday times as one of the 10 best trails in the world. Explore the wonders of lake Mývatn and Europe's largest waterfall, Dettifoss!
Dates 2023
June: 26 - July 1
July: 31 - Aug 5th
August: 7 - 12 & 14 - 19 & 21 - 26
10th Best Riding Trails in the world
This tour was nominated by the Sunday Times as one of the 10th best trails in the world.
The North of Iceland is known for its spectacular natural sights and diverse landscape. Our tour goes from Bjarnastaðir Farm near Húsavík to the Lake Mývatn area, famous for its volcanic features and rich birdlife. Ásbyrgi Canyon, Dettifoss, Europe's largest waterfall, and the strange rock formations at Hljóðaklettar are just some of the gems of nature we´ll be seeing on this amazing tour.
An optional whale watching tour concludes the selection of natural attractions on and offshore.
We ride along soft riding tracks ideal for "tölting", the unique extra gait of the Icelandic Horse. The first day we spend in Jökulsárgljúfur National Park and visit both Dettifoss Waterfall and Ásbyrgi Canyon.
From rich green pastureland, we head towards the Gæsafjöll Mountains and spend a night in a mountain cabin at Theistareykir. Through an area scarred with cracks and fissures from earthquakes and volcanic activity, the route takes us to Lake Mývatn where bubbling mud pools and eerie lava formations are a reminder of the powerful energy right beneath our feet. We have the opportunity to bathe in the warm geothermal water of the outdoor pool at the Mývatn Nature Baths.
Our farmers Halldór and Elín offer our guests this extraordinary tour.
Attention
Please bring your own sleeping bag with you on the tour
Individual travel insurance is not included in the tour price. We encourage clients to obtain relevant travel insurance before visiting Iceland.
Flight to and from Iceland is not included
Bring bags rather than hardcover suitcases
Pack light because transport space is limited.
Húsavík
is a town in north Iceland around 10 km from the domestic airport. The town is famous for whale watching tours and has around 2300 inhabitants
Bjarnastaðir Farm
is situated in north-east Iceland in the low bushy area of Kerlingaskógur, close to the glacial river Jökulsá á Fjöllum and Dettifoss waterfall. It is the farm of Elín and Halldór, breeders of both horses and sheep 
Jökulsárgljúfur National Park
located north around the river Jökulsá á Fjöllum and the waterfall Dettifoss. Since 2008 it has been a part of Vatnajökull National Park, the largest national park in Europe
Lake Mývatn
famous for its volcanic features and rich birdlife
Dettifoss waterfall
is considered the second most powerful waterfall in Europe. It measures 44 m high and 100 m wide. It is located in north-east Iceland within the Vatnajökull National Park and flows from the glacier river Jökulsá á fjöllum that has its source in Vatnajökull
Ásbyrgi canyon
one of the wonders of nature. It is a wide, horseshoe-shaped canyon with sheer cliff faces up to 100 m high
Öxarfjörður Fjord
a broad fjord in north-east Iceland located right on top of the Mid – Atlantic ridge
Þeystareykir
a geothermal area with colourful mud pits, mountains, hills and lava fields. The mountain hut stays warm all year round due to the geothermal activity of the area
Halldórsstaðir in Laxárdalur valley
A farm in the north. The land has one renovated house built in 1893
Hólasandur
Big sandy, deserted area between Mývatn and Laxárdalur. Part of it is a protected and fenced land reclamation area, around 130 km2 growing Alaskan Lupine and birch. There is one road through the area Hólasandur
Laxá river
glittering salmon river
Mývatn Nature Baths
an outdoor lagoon filled with mineral rich geothermal water heated from natural hot springs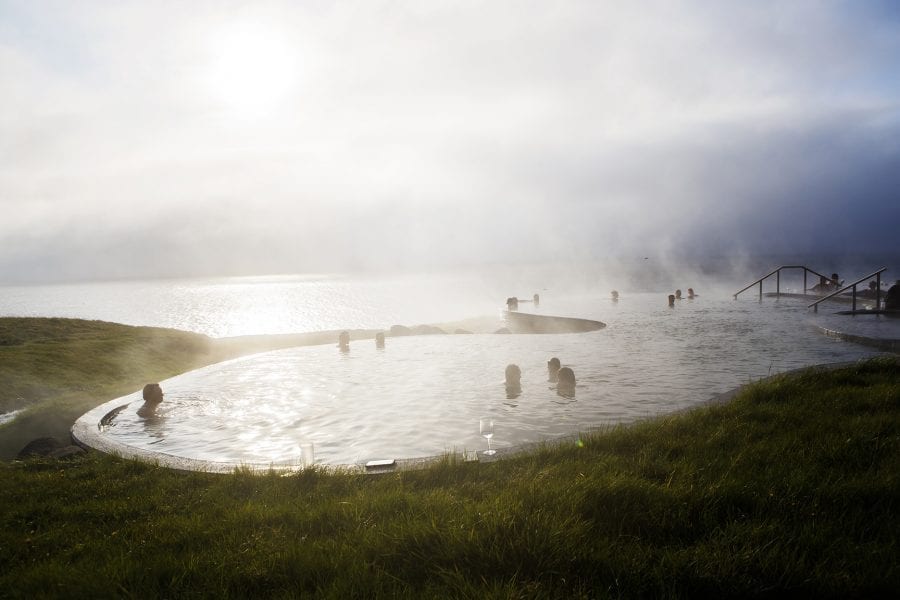 Mid-Atlantic Ridge
a tectonic plate boundary. In Iceland it is where the North American and the Eurasian plates meet and drift apart. It extends above sea level