Trail of Hope
On this trail we ride through diverse nature, on black sandy beaches perfect for the famous gait Tölt to the highlight of the tour when we glide over the lake Hope.
Dates 2023
June: 11 - 15 & 18 - 22
July:30 - Aug 3
August: 7 - 11 & 22 - 26
Horseback riding in North Iceland!
This tour is an ideal opportunity for everyone who wants to enjoy a exceptional ride in different types of landscape. We ride through diverse nature and get an excellent insight into Icelandic history when listening to stories from the Saga ages. Riding the horses on smooth sandy grounds is a joy for the rider and his mount. There is plenty of time to enjoy the unique gait "tölt" while exploring nature and the history of this outstanding area.
We start the ride at Hvammur Farm in Vatnsdalur valley. It is a thrilling experience riding on the black sandy beaches, through rivers, fields and the great lagoon called Lake Hóp (e. Hope). A visit to a seal colony on the North-Atlantic coast and the majestic Hvítserkur monolith is a wonderful thing to see.
Our well-known farmer Haukur Suska, his family and wonderful staff at Hvammur farm operate this tour.
Attention
• Individual travel insurance is not included in the tour price. We encourage clients to obtain relevant travel insurance before visiting Iceland.
• Flight to and from Iceland is not included.
Vatnsdalur
A beautiful grown valley. The salmon and trout river Vatnsdalsá enters the valley and turns to numerous waterfalls and a canyon.  Vatnsdalshólar, the uncountable hills, are a well known feature in Iceland and the area is a setting of Vatnsdæla-Saga
Borgarvirki
a natural basalt strata feature and a fascinating fortress of the Vikings that was renovated by locals in 1949. It contains ruins and a well inside and stands 177 meters above sea level 
Víðidalsá River
A generous salmon and trout river that runs towards Lake Hóp
Þverárétt
a sheep pen used by local farmers to sort the sheep in the autumn
Hvítserkur
a unique basalt rock formation and a nesting place to many seabirds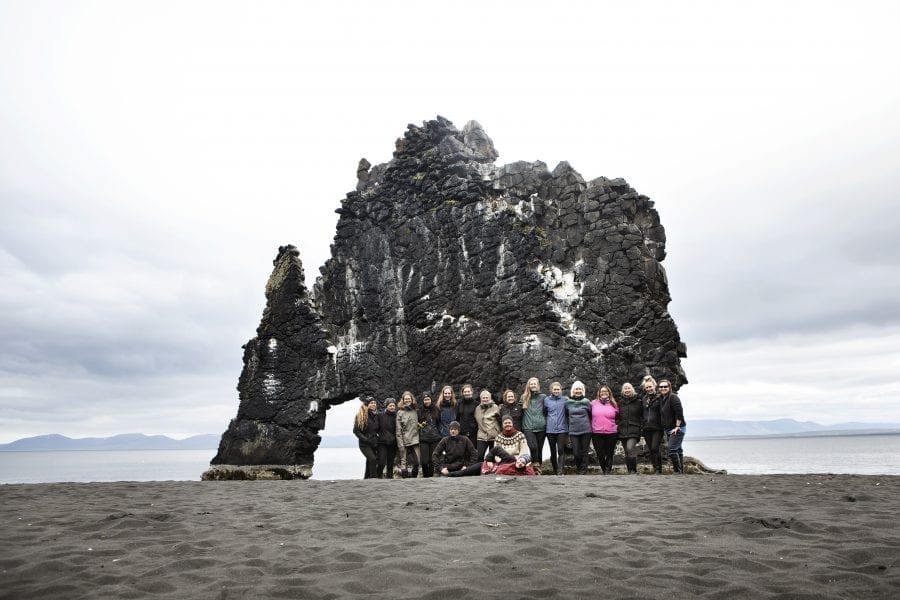 Vatnsnes peninsula
the area is one of the best known seal colony in Iceland
Sigríðarstaðasandur
a black sand area with dunes in the north west of Iceland
Nesbjörg
75 meters ridge above sea level in northwest Iceland
Þingeyrar Farm
was founded in the 12th century. It was once the site of a monastery
Þingeyrar Church
The first stone church in Iceland
Lake Húnavatn
Ingimundur named the lake after a polar bear that he found with her two cubs 
Hvammsfoss waterfall
situated in Vatnsdalur surrounded by impressive basalt columns