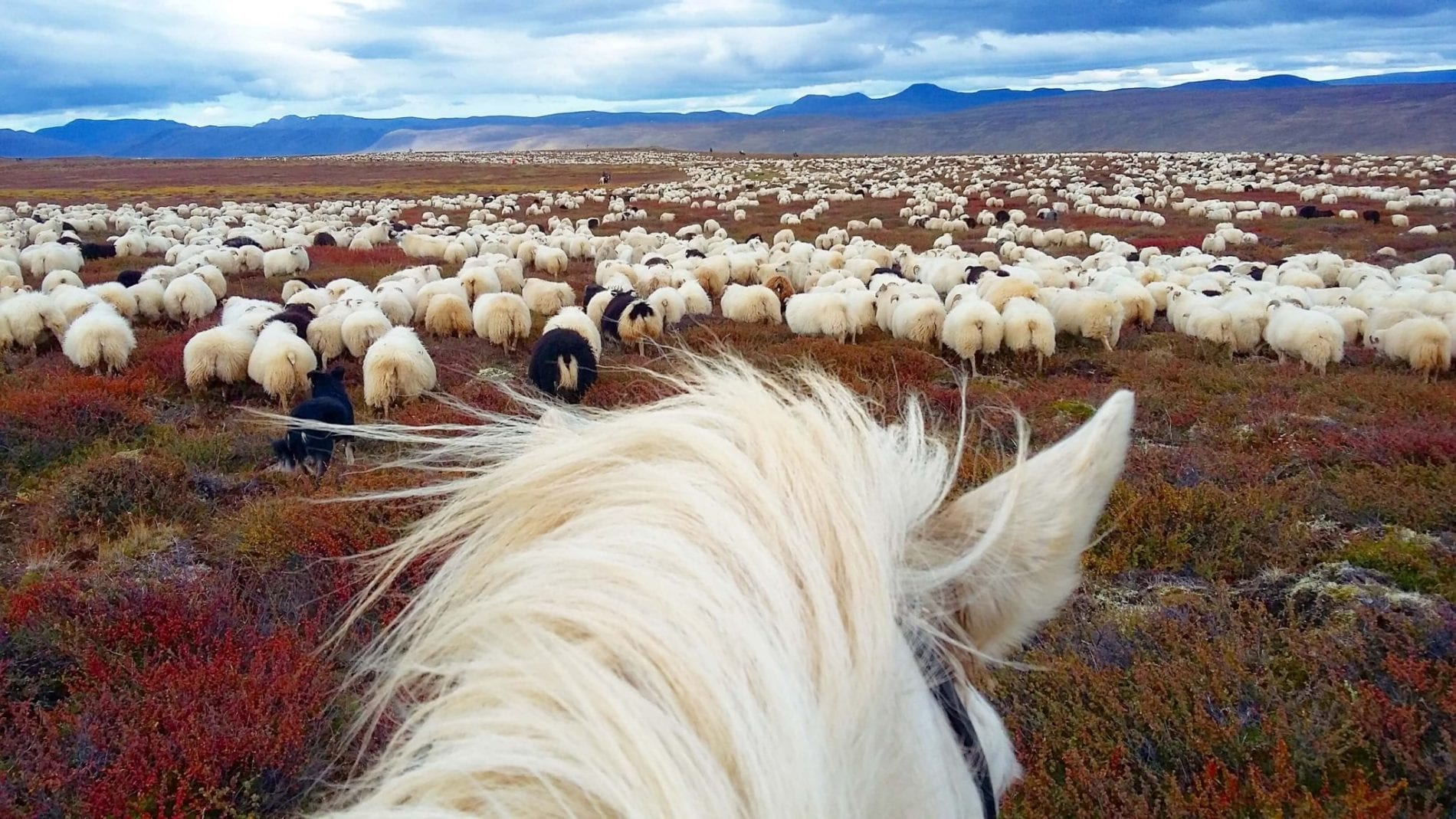 The unique Sheep Round up Melrakkaslétta is one of our highly recommended autumn-tour. It takes you north east to observe the remote and remarkable peninsula Melrakkaslétta by joining and helping local farmers with their annual sheep round up. 
Melrakkaslétta could translate Arctic Fox Field. It is inhabited by few and differs from the rest of the country. Although Icelanders rarely visit, they seem to perceive it as an eventless flatland of nothing. However, in reality its geography is highly versatile ranging from mountains up to 400 m high above sea level to cliffs, valleys, tundra and lakes that are full of trout. It is a real bird heaven with the largest migrations in spring and autumn and home to both Syberian driftwood and seals. Whales can be spotted from the shoreline and from the fjord beside, Öxarfjörður, although Húsavík is generally referred to as the whale capital.
There are many renowned sites of interest in the vicinity of Melrakkaslétta. 
After flying to Húsavík, we stop by Europe's second most powerful waterfall Dettifoss that measures 44 m high and 100 m wide, and Ásbyrgi, a phenomenal fully grown horse shoe shaped canyon that rests between up to 100 m high cliffs. Weather you chose to believe that the canyon stems from a disastrous sub-glacial outburst flood that started around 10.000 years ago, or that Sleipnir, Óðins eight legged horse, accidentally put one hoof down crushing the earth underneath, the area is one of nature's wonders and situated within The National Park of Vatnajökull. 
After visiting these spectacular sites we will join our hosts at Bjarnastaðir, get acquainted with the horses and ride out for the next 2 – 3 hours through the forest of Kerlingaskógur. Lake Skjálftavatn is a good reminder of where we are. We are situated right on top of the mid Atlantic ridge where the two tectonic plates of North America and Eurasia join but also drift apart. After earthquakes 1975-1976 the land suddenly sank and the shallow but generous fishing lake Skjálftavatn emerged. It is among the larger lakes of Iceland and a source of generous fishing rivers. Our riding continues further up north and we will stop by the broad fjord Öxarfjörður to savour the view. 
The sheep round up starts early and goes on for three full days in Núpasveit and Melrakkaslétta. It is crucial to be in good physical condition, to find one's team spirit and to search for, either the forgiveness or the gratitude that the unpredictable weather of September month in Iceland often demands!
The local farmers will appreciate your helping hand gathering the vast amount of free running sheep from the fields and mountains towards the communal sheepfolds. From the sheepfolds, they get sorted out by their earmarks and, with your help, brought to their respective owner. The last day of the round up joyfully takes place singing and drinking till we finish it off with a good, hearty celebration dinner. You will therefore get acquainted with our ancient local traditions of governing flocks downhill through the diverse landscape of rivers and valleys while sensing the absolute fulfilment of joyful teamwork right where nature is at its best.